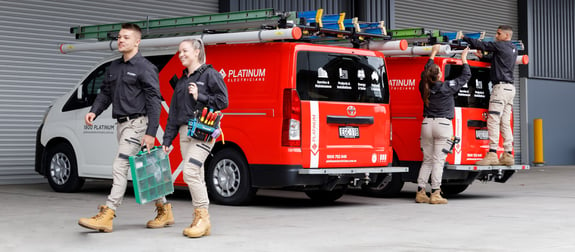 MELBOURNE, VIC
ELECTRICIAN

---
THE

ROLE

We are seeking a fully qualified electrician, who is proactive and thrives on developing their skills on all types of sites. The candidate must have excellent communication skills. If you are trade qualified and reliable, neat and punctual, with a great work ethic - apply now.

This is the perfect opportunity for a tradesperson who enjoys responsibility and autonomy, with support from a team of experts. You will enjoy a fast paced, diverse and challenging role where you will never get bored!

This is a permanent, full-time position with an on-call roster. There is a competitive remuneration package on offer with a negotiated hourly rate, a fully maintained company vehicle and uniforms. To be considered you will hold excellent presentation and communications skills, as you will be representing the company to clients, suppliers and stakeholders across the industry.
SKILLS
& EXPERIENCE:
Full Australian working rights
VIC electrical license
Current driver's license
Construction industry white card
Excellent customer service
DUTIES
INCLUDE:
Completing a variety of commercial electrical work
Working autonomously in the growing team in Melbourne and with a remote team in Sydney
Remaining self-motivated with a positive attitude towards all duties
Platinum Electricians is an established electrical business
working all over Australia.
We pride ourselves on our longstanding relationships and quality workmanship to deliver the best outcomes for our clients.

We now have over 200 vans on the road nationwide and employ over 250 people, with all of our highly qualified electricians being experts in the field and can do any electrical work required.
FANTASTIC
SALARY PACKAGE
Well above award remuneration + company vehicle + phone + uniform and overtime!
GREAT WORKING
CONDITIONS
Supportive and motivated team of electrical trade professionals
ADVANCE
YOUR CAREER
Long term opportunity to develop as an integral leader of our business
EXCELLENT
CULTURE
Down to earth management, regular social events, team BBQ's etc
If you have the experience and passion needed to be successful in this role, we would love to hear from you!

Please complete the form below and include your resume and cover letter detailing your relevant experience and why you are the perfect candidate for this role.